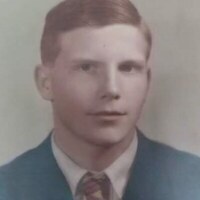 Bobby Lee Allen, age 87 of Bridgeport, passed away Sunday, November 15, 2020 at Aperion Care of Bridgeport. He was born February 25, 1933 in Lukin Township to Lawrence and Hazel (Webster) Allen.
Bobby was a logger for many years and enjoyed going to auctions.
Surviving relatives include: one son- Robert Dale Allen and wife Claudia of Montgomery, LA: two daughters- Vickie Longino of Gardner, LA and Lisa Schmidt of Gardner, LA: a brother-in-law: Marion Hankins: nine grandchildren: and numerous great-grandchildren.
He was preceded in death by: his parents- Lawrence and Hazel Allen: a daughter- Paula Allen: and two sisters- Peggy Hankins and June Allen.
A graveside service will take place at 11:00 a.m. on Wednesday, November 18, 2020 at Bridgeport City Cemetery. Cunningham Funeral Home is assisting the family.
Online condolences can be sent to the family at www.cunninghamfuneralhomes.com.