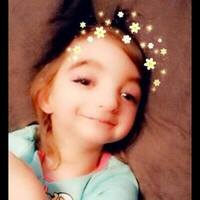 Aiyanah Lynn Forsythe, age 8 of rural Lawrenceville, passed away unexpectedly of complications related to long-term health issues. She was born in Vincennes, IN on July 19, 2012 to Matthew Forsythe and his wife Kelly (Bolmer) Forsythe.
Aiyanah loved to listen to music, had a few favorite game shows, and LOVED get loved-on and snuggles.
Family members include: her parents- Matthew and Kelly Forsythe of rural Lawrenceville: her two brothers- Diesel and Jesse Forsythe: maternal grandmother- Debra Bolmer of Bridgeport: paternal grandparents- Harold and Caroline Forsythe of Lawrenceville: and several aunts, uncles, and cousins.
She was preceded in death by her maternal grandfather, John Bolmer.
A graveside service for Aiyanah was held at May Chapel Cemetery on Sunday, September 6, 2020. A walk-through visitation was held at Cunningham-Young Funeral Home in Lawrenceville.
Memorial contributions can be made to the family directly or through the funeral home. Online condolences can be sent to the family at www.cunninghamfuneralhomes.com.