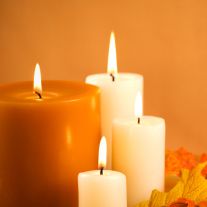 David P. Heath, age 55 of Sumner, Illinois died Saturday, October 13, 2018 at his residence. He was born December 05, 1962 in Vincennes, Indiana, the son of Richard D. Heath Sr. and Mary Ruth Stevenson Heath. He married Glenna Goodwin on October 18, 1986 and she survives.
David worked at Sumner Grain in Sumner, Illinois, prior to his disability. David enjoyed fishing, hunting and loved to play jokes on everyone.
Preceding him in death were his parents; two brothers, Russell and John; two sisters, Susan Heath and Martha Curtis; and one step-son, David Goodwin.
Survivors include his wife Glenna; one step-son, Allen Martin of Olney, Illinois; three brothers, Richard D. Heath Jr and wife Carol of Sumner, Illinois, Roger Tom Heath of Olney, Illinois, and Elizah "Jim" Heath and wife Julie of Olney, Illinois; three sisters, Josephine Lynch and husband Willie of Olney, Illinois, Edith Johnson and husband Darrell of Lawrenceville, Illinois, and Mary Helm of Flora, Illinois; five step-grandchildren; two step-great grandchildren; and several nieces and nephews.
The body will be cremated, and a memorial service will be conducted at a later date. Sivert-Macey & Steffey Funeral Home in Sumner, Illinois is in charge of the arrangements.
Please visit www.emmonsmaceysteffey.com to view the tribute and to send condolence