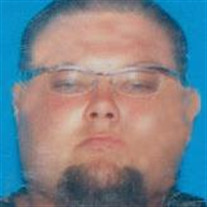 Harold W. Carter, 35, of Washington, Indiana passed away Tuesday, April 17, 2018 at his residence. He was born November 12, 1982 in Lawrenceville, Illinois, the son of Jeffery W. Carter and Marjorie (Littlejohn) Carter-McKendree.
Harold had attended Beulah United Methodist Church.
Preceding him in death were his parents and one sister, Penny S. Carter.
Survivors include several aunts, uncles, and cousins.
A graveside service will be conducted on Thursday, May 24, 2018 at 1:00 PM CST at the Oaklawn Cemetery. In lieu of flowers, memorial donations in Harold's memory may be made to the funeral home to help with the funeral expenses. Emmons-Macey & Steffey Funeral Home in Lawrenceville, Illinois is in charge of the arrangements.
Please visit www.emmonsmaceysteffey.com to view the tribute and to send condolences.