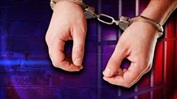 KNOX COUNTY ARRESTS
-Vincennes police arrested a man wanted on warrants late last night in the 600 block of North 2nd.  30-year-old Cory W. Ferrell was apprehended at 12:15 am.  He was wanted for theft, possession of a controlled substance, possession of a synthetic drug and trafficking with an inmate.
-At 6:20 last night, Vincennes police investigated a shoplifting incident at a business on Kimmell Road.  32-year-old Bronzon Lee Boxley was jailed for theft and battery.
-An arrest warrant was served at Highway 67 and Church Road at 5-pm yesterday.  Vincennes police report that Brent Howell, 45 years old of Bruceville was wanted on a probation violation for check fraud and on a  petition to revoke a suspended sentence.
-Vincennes Police arrested a local woman Tuesday on charges of neglect of a dependent. Officers responding to a complaint of a juvenile problem went to a residence in th 12-hundred block of upper 11th Street. Upon further investigation, 24-year-old Joboa (JOE-BOWA) Anderson was taken into custody. The Department of Child Services assisted with the investigation.
-Bicknell Police arrested 49-year-old David Obermeyer yesterday. He was jailed at 2-pm for battery, resisting law enforcement and disorderly conduct.
-A woman was charged with battery on a person under 14 yesterday.  Vincennes Police charged Elisha Sparks with the crime after an investigation.  She was jailed at 3:16 pm. Tuesday.
DAVIESS COUNTY ARRESTS
-Washington City Police arrested 33-year-old Lucas L. Ryan overnight.  He was booked into the security center at 2:09-am on a charge of battery.  No bond was set.