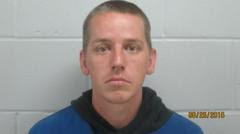 At his first court appearance, accused murderer 32-year-old Nathan Baker of Shoals, pleaded not guilty.
Baker was in Martin Circuit Court Tuesday and was officially charged with two counts of murder, two counts of theft, one count of auto theft and two counts of burglary.
82-year-old Alan Sims and 52-year-old Tom Tharp were found shot to death on Sims' property on Fred Sims Road last Wednesday.  Baker is accused in the shootings and of stealing items from both victims' homes including a car from Tharp.  Baker was caught in the car after leading police on a brief chase.
A trial date has been set for January 25th and Baker's appointed attorney is Dave Smith of Bedford.  Baker is still jailed in Martin County.