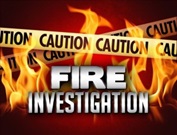 Authorities say no foul play was suspected in a fatal fire early Monday morning.
First Responders arrived to find a trailer fully engulfed in flames.  The call came in at 3:45 am on Monday concerning a Maysville residence.
Yesterday, the Daviess County Sheriff's Department released the name of the lone occupant inside the mobile home.  53-year-old William G. Hall succumbed to smoke and flames and died of injuries in the blaze.  The cause of the fire is still under investigation by the Indiana State Fire Marshal's office.  Again there was no foul play.