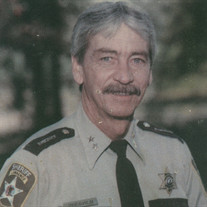 Stephen "Steve" Chansler of Lawrenceville, IL passed away Saturday March 10, 2018 at Gateway Deaconess Hospital in Newburgh, IN. Steve was 66.
Born August 9, 1951in Lawrenceville, IL he is the son of Harold "Sock" and Edith Frances (Miller) Chansler. On September 24, 1971 he married Molly Jo Crump and she survives.
Steve served in the United States Army during the Vietnam War. He worked for the Lawrence County Sheriff's Department for 30 plus years, serving as Sheriff from 1994-2002. He also worked for the Postal Service and at Central Cigar. He was a member of the Hi-Way Church of God. He enjoyed fishing, mushroom hunting, and spending time at the river at Dodge City. He enjoyed spending time with his grandchildren
Survivors, including his wife Molly, are his two sons: Jody Chansler and wife Kimberly of Fort Dodge, IA, Zach Chansler of Lawrenceville, IL, a brother: Charles "Chuck" Chansler and his wife Barb of Saskatoon, Canada, a sister: Rita Diane Davis and her husband Pete of Noble, IL, and four grandchildren: Taylor, Riley, Jaidyn, and Jaxtyn.
Visitation will be Wednesday from 4:00 until 6:00pm at the Hi-Way Church of God in Lawrenceville, IL. The will be no formal services. Steve's wishes were to be cremated.
The Emmons-Macey & Steffey Funeral Home is in charge of arrangements.
Send condolences to www.emmonsmaceysteffey.com