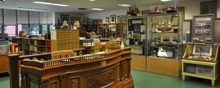 Rare and fragile pre-1825 primary source material from Vincennes, Knox County and Vincennes University will be digitized.  It's all thanks to a nearly $10,000 from the U.S. Institute of Museum and Library Services, administered by the IndianaState Library.  The grant is going to the VU Lewis Historical Library.
Three collections will be digitized to make them more widely available for researchers.
The first is the early years of the Vincennes University Board of Trustees Minutes dating back to 1806.. The material reveals the origins of higher education in Indiana; including meetings presided over by Territorial Governor and future U.S. President William
Henry Harrison.
The second collection is the Early Vincennes French Family from 1780-1878.
The third collection is the Knox County  Commissioners Records and
Vincennes' early tax records dating from 1814-1823.
The digitization will adhere to State Library Digitization standards and will be done by Wabash Valley Visions and Voices, an Indiana State University-based project with extensive past service in digitizing important historical documents and photos for southwest Indiana.