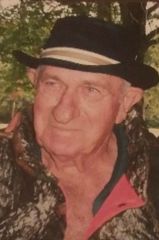 Ralph M. Phillips, age 87 of Lawrenceville, passed away Monday, January 2, 2023, at Good Samaritan Hospital in Vincennes, IN. He was born May 25, 1935, in Lawrenceville to Clarence T. Phillips and his wife Stella Maye (Gowens) Phillips.
On September 29, 1958, Ralph married Gerry Ann Rousey. She preceded him in death on September 4, 2021.
Ralph was a hard worker and spent his life working in the oilfields as a self-employed oil producer. He enjoyed mushroom hunting and playing the fiddle and guitar.
Surviving family includes: his two sons- Mark Phillips of Vincennes, IN and Matthew Phillips and his wife Michelle of Lawrenceville: three grandsons- Mason Phillips, Alan Webster and wife Devan, and Alex York and wife Bethany: two granddaughters- Heather Christie and husband Jordan and Amy Stoelting and husband Aaron: and eight great-grandchildren.
He was preceded in death by his parents, his wife of 62 years, and daughter-in-law (Teresa Phillips).
Graveside services will be held for Ralph at 2:00 p.m. on Friday, January 6, 2023, in the Bridgeport City Cemetery. Cunningham Funeral Home of Bridgeport is assisting the family with arrangements.
Online condolences can be sent to the family at www.cunninghamfuneralhomes.com.