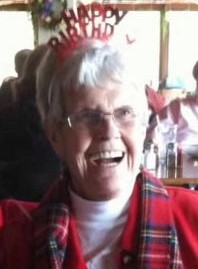 Jean Taggart Caldwell, age 93, of Lawrenceville, IL, passed away Sunday, January 9, 2022 peacefully at her daughter's home in Prospect KY.  She was born February 26, 1928, at home near Fillmore School, south of St. Francisville.  She moved to St. Francisville at the age of seven and graduated from the St Francisville schools.  She attended and graduated from the Good Samaritan School of Nursing in 1949.
She worked for Lawrence County Memorial Hospital for 31 years, 29 of those years as the surgery supervisor.  Jean was very proud of her career as a nurse, and once said "I can't think of anything I would have rather done".  After retirement, she enjoyed traveling, line dancing, and walking with her group of friends.  One of her favorite pastimes was playing cards with friends.

For many years, Jean has been  a member of the Lawrenceville First Presbyterian Church.  She was also a member of the Lawrenceville Garden Club. Faith and her family were very important to her.  She was proud of her three grandchildren and the kind, professional adults they have become.
Left to cherish her memory are daughter, Virginia (Jinny) Casey and her husband, Joseph of Prospect KY: Three grandchildren, Mary Elizabeth Casey, M.D. of Louisville, KY; Joseph M Casey Jr, (Ken) of Westport CT, and Anne Taggart Casey, (Roberto) of Louisville KY; one great grandchild, Enzo Necalli Aguirre-Casey; and sister in-law, Dorothy Taggart.  Also survived by her faithful cat, Buddy and loving neighbors, Penny Wagner, Pam and Mike Varner.
Jean is proceeded in death by her parents, James H. Taggart and Florence Elizabeth (Smith) Taggart; 2 brothers, Fred and Wayne Taggart; and two sisters, Mary Gaddy and Ruth Spidel.
A funeral service will be held for Jean on Saturday, January 22 at 11AM (CST). The service will be held at the First Presbyterian Church, 809 12th Street, Lawrenceville, IL.  Visitation will be one hour before the service (10 – 11 AM). Burial at Zion Cemetery following the service.  The family requests masks to be worn if attending the service.
In lieu of flowers memorial gifts may be made to the charity or organization of the donor's choice in honor/memory of Jean. Online condolences can be sent to the family at www.cunninghamfuneralhomes.com.