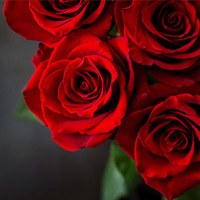 Vivian Iona Cress, age 87 of Lawrenceville, passed away at her home surrounded by her family on Monday, February 15, 2021. She was born March 13, 1933 in Litchfield, IL to Clarence "Doc" Wey and his wife Ellen Beatrice (Smith) Wey.
Vivian married Henry "Hoot" Cress. They enjoyed many years of marriage and raised a fantastic family together. Hoot preceded Vivian in death.
Many people knew and loved Vivian from seeing her at the Lawrenceville Moose and the golf course. She retired from the Moose after 20 years. Vivian had a quick wit about her and an infectious smile. She absolutely LOVED her family!
She was a member of the Lawrenceville Moose and VFW.
Surviving family includes: six children- Bruce Cress of Virginia Beach, VA, Vicki Fuller and husband Jim of Lawrenceville, Norman Cress and wife Chris of Louisville, KY, Amy Drummond and husband Bill of Bridgeport, Mary Lowie and husband Brian of Atlanta, GA, and Mike Cress and wife Stephanie of Virginia Beach, VA: nine grandchildren- Justin Wolford, Jennifer McKinstry, Kristina Barker, Jay Helvey, Cole Helvey, Mary Ashley Cress, Vivian Lexi Cress, Jacob Cress, J.R. Cress, Angela Cress, and Karen Cress: and three great-grandchildren- Peyton Livesay, and Parker and Paxton McKinstry.
Vivian was preceded in death by: her parents- Clarence "Doc" Wey and Ellen Beatrice Wey: her husband- Hugh Henry "Hoot" Cress: and son- Ricky Timothy Cress.
A funeral service will be held at the Cunningham Funeral Home in Bridgeport at 3:00 p.m. on Saturday, February 20, 2021. A visitation will be held from 1:00 p.m. until service time at 3:00 p.m. Burial will take place the next day, Sunday, February 21, 2021, in the Holy Cross Cemetery near Litchfield, IL.
Memorial contributions can be made to Lawrence County Cancer Resource and Wig Shoppe directly or through the funeral home. Online condolences can be sent to the family at www.cunninghamfuneralhomes.com.