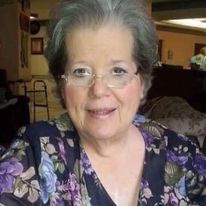 Carol Rosine Cowan, wife of Pastor James K. Cowan Sr, passed away unexpectedly in the early morning hours of January 5th, 2021.
Carol was born February 12, 1944 in Peoria, Illinois the daughter of Walter  Edgar & Florence Mary (DuBois) Marrs. She was a 1962 graduate of Academy of our Lady in Peoria, IL. Carol graduated from beauty school and worked at Beau du Monde in Peoria and later taught high school math and science for 13 years. She married James K Cowan Sr.in Peoria, Illinois, in 1964.
Carol was a brilliant mathematician with an interest in chemistry and science. Carol supported her husband James and his ministry unconditionally throughout her life. She was the mother of ten, yet a mother to all who came through her door at the church where she and Pastor Cowan worked for 28 years. She reminded us to bloom where we are planted and shared with everyone her favorite Bible verse "Be still and know that I am God."
She is survived by her husband of 56 years, James; her ten children, Doris (Scott) Tucker of Georgia, Wendy Richardson of Georgia, Chandra (Roger) Powless of Georgia,  James (Peggy) Cowan of Georgia, Marcy (Kenneth) Ferguson of Illinois, Joshua (Jane) Cowan of Indiana, Neta (Allen) Beck of Georgia, Natalie (Brandon) Campbell of South Carolina, Jason (Chrissy) Cowan of Pennsylvania and Jonathan (Sarah) Cowan of Colorado; twenty-seven grandchildren, twelve  great-grandchildren, and numerous nieces and nephews.
Carol is preceded in death by her parents, and her sister.
The family would like to thank the entire staff of the United Methodist Village for their wonderful care.
Funeral Service for Carol Rosine Cowan will be at 11:00 a.m. on Monday, January 11, 2021 at Robinwood Assembly of God Church at 11157 N Trimble Rd, Robinson, IL 62454. A private entombment will take place at Crest Haven Memorial Park Cemetery of Claremont, IL. Cunningham-Young Funeral Home of Lawrenceville is handling the arrangements.
In lieu of flowers, memorials may be made to Cunningham-Young Funeral Home at P.O. Box 522 to assist the family. Online condolences can be sent to the family at www.cunninghamfuneralhomes.com.