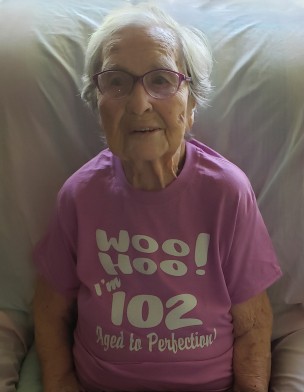 Elma Mae Hodges, age 102, of Russellville, Illinois passed away on Thursday, November 19, 2020 at her residence. She was born on July 20, 1918 in Crawford County, Illinois, the only child of Everett A. and Tiny L. (Dalton) O'Haver. She married Lyle C. Hodges on August 06, 1942, and he preceded her in death on June 08, 1984.
Elma was a homemaker and housecleaner. She also made parachutes at the Parachute Factory in Washington, Indiana during WWII. She was a lifelong member of the Russellville Methodist Church, and later to the Allison Prairie Church of the Brethren. Her hobbies included sewing, quilting, gardening, and cooking for her family.
Preceding her in death were her parents; husband; daughter-in-law; and one grandson.
Survivors include two children, Della Hodges and Russell Hodges and wife, Terri all of Lawrenceville, Illinois; six grandchildren; eight great-grandchildren; and one great-great-grandchild.
Graveside services will be conducted on Monday, November 23, 2020 at 10:00 AM at the Price Cemetery in Russellville, Illinois. Memorial donations may be made to the Lawrence County Senior Citizens. Emmons-Macey & Steffey Funeral Home in Lawrenceville, Illinois is in charge of the arrangements.
Please visit www.emmonsmaceysteffey.com to view the tribute and to send condolences.