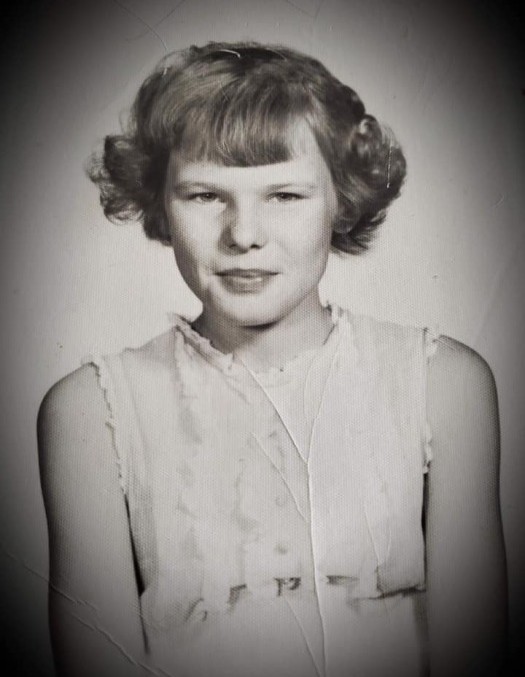 Edith Diane Collins, age 70, of Lawrenceville, Illinois passed away on Tuesday, November 10, 2020. She was born on May 16, 1950 in Lawrenceville, Illinois, the daughter of Rose Marie Montgomery Cooper. She married Delbert L. Collins on January 06, 1968, and he survives.
As I sit here and look at this picture, I reflect on not only the image itself, but the little girl, full of confidence, fire and yes, an attitude enough for two people. If a picture is worth a thousand words then this sums up how I see my mom as one of God's Angels. She was a wife, mother, grandmother, sister and friend to many. Mom often shared her memories growing up and reflecting on her times as a young girl living across the tracks. Yes, there were a lot of mischievous stories, but many others that were based on her love and loyalty to her family and friends.
Although we are saddened at the loss of our Mom, we get comfort in knowing that she is now and forever present with the Lord, in the company of those who have gone before her. This is God's Promise to us and it gives us comfort knowing that we will see her again someday as I see her now, a beautiful young girl full of life and love.
Survivors include her husband; four children, Anthony Collins, Tammy Luna, William Collins, and Alyssa Benefiel; two brothers, Darvin Hager and David Hager; two sisters, Sherry Green and Anna Tewell; several grandchildren; and several great-grandchildren.
Diane's wishes were to be cremated, with a private family service. Emmons-Macey & Steffey Funeral Home in Lawrenceville, Illinois is in charge of the arrangements.
We would like to thank each of you for your prayers. Through these prayers, in the presence of her family she passed peacefully. This is what she wished for.
God Bless You All – Bil & Family
Please visit www.emmonsmaceysteffey.com to view the tribute and to send condolences.