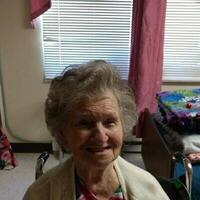 Imogene (Benson) Shidler 93 of Bridgeport passed away on Monday, November 9, 2020 at Good Samaritan Hospital in Vincennes, Indiana.
She was born on September 30, 1926 in Hammond, Indiana to Mildred Benson.
Imogene married Aden Shidler who preceded her in death in 1987.
She was a homemaker.
Imogene is survived by her daughter Carolyn Breen of Lakeland, Florida, 3 grandchildren Tony Jerrell of Bridgeport, Michael Jerrell of Bridgeport, Jaime (Breen) Hathcock and husband Chris of Lakeland, Florida and 8 great-grandchildren.
She was preceded in death by her mother and husband.
Imogene's wishes were to be cremated with no services.
On-Line condolences may be sent to www.glasserfh.com
Glasser Funeral trusted with arrangements.