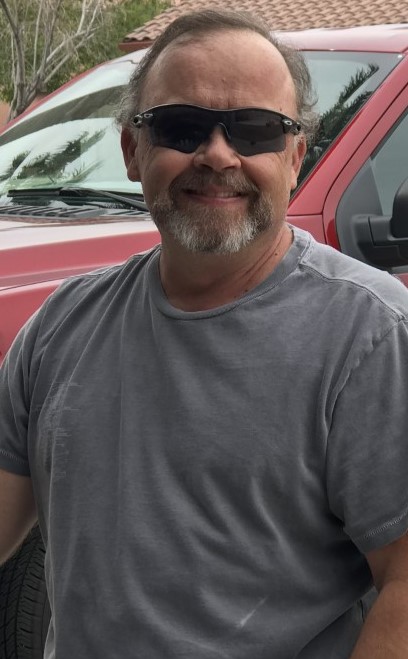 On October 7, Robert Leo Shoulders, 64, loving father and brother, passed away doing what he loved the most: riding his motorcycle. He was known as Bob or Bobby to his friends and family and he often joked that his initials (B.S.) described him best.
Bob was born on March 30, 1956 in Lawrenceville, Illinois to Wanda and Sylvester Shoulders. He joined the United States Air Force in 1982 and retired honorably at the rank of Master Sergeant in 2002. He often said that serving in the Air Force changed his life for the better and he truly believed in the value of serving his country. Bob started a second career after his Air Force retirement, as an IT Support Specialist and Project Manager with Dignity Health and was still working there until his death. Bob received his associate's degree from the Air Force and a bachelor's degree in Information Technology from DeVry University.
Bob married Grace Barr in March 1984 and they had two children, Ashlee and Jacob. They remained married for 20 years.
Anyone who met Bob would have described him as cheerful, fun, and friendly. This includes people he had known for all of thirty seconds because he made friends with every single person he ever came across. He loved riding motorcycles, eating great food, listening to good music, watching action movies and spending time with friends and family. He cared about his family more than anything else in the world and spent every day making sure that they were as happy as could be. He was an incredibly hard worker and impressed his colleagues and managers his entire career with his dedicated work ethic and kindness to his colleagues.
Bob was preceded in death by his parents Sylvester and Wanda Shoulders, and brothers, Leroy Allen and Daniel Shoulders. Surviving family includes children, Ashlee Chavez and Jacob Shoulders, granddaughter, Caitlyn Chavez and his siblings Sharon Kerschner and husband Jerry, Shirley Koberstein and husband Kenny, Rebecca Churchwell Gann, Terry Dean Shoulders, Susie Dowty and husband Randy, and Anita Gerardi and husband Tommy. He also leaves behind countless in-laws, nieces, nephews and cousins.
A funeral service will be held on Thursday, October 15 at Sumner Cemetery for family members. In lieu of flowers or donations, Bob would have loved for you to sit down with a good drink and make a toast in his honor. Cunningham Funeral Home is assisting his family with arrangements.
Online condolences can be sent to the family at www.cunninghamfuneralhomes.com.