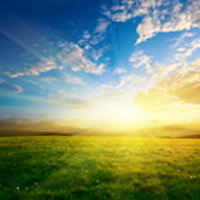 Arnold Joseph "A.J. or Burr" Bowman, 90, of Melbourne, Florida and formerly of Lawrenceville, passed away on June 12, 2020 at his home in Melbourne.
Burr was born in Vincennes, Indiana to Joseph Arthur and Veronica Katherine (Wichman) Bowman on August 3, 1929. He married Patricia Sue Baldwin on July 26, 1952 at St. John's Catholic Church in Vincennes. He
graduated from Indiana University with a degree in Business where he also excelled in varsity football and baseball. After he graduated from the ROTC program he served as a Lieutenant in the United States Air Force and was a veteran of the Korean War. Using his college degree, he eventually became the owner and proprietor of a successful business – A.J. Bowman Insurance Agency in Bridgeport, Illinois where he worked and served his community for nearly four decades.
Burr and Sue built their home in Lawrenceville, IL near the city park where they raised their young family of three children. Later they purchased a beautiful 200-acre farm west of Lawrenceville and built a new home where the family resided and enjoyed riding horses and motocross racing, and other outdoor activities. Burr enjoyed sponsoring and participating in family activities, and he was always a good athlete and enjoyed playing
handball and golf.
He was a member and leader of several clubs and organizations including the Lions Club in Bridgeport, IL, the Bi-state Authority, the Lawrence County Country Club, and the Parish Council at the St. Lawrence Catholic
Church in Lawrenceville, IL. He received many honors and accolades for his community participation and commitments. When Burr relocated to Florida, he became a Founding Member of Suntree Country Club, and he also served on the Board of Directors of Augusta Village.
Burr was preceded in death by his wife Sue, and by an infant daughter, Karen Marie. He was also preceded by four brothers Arthur Louis Bowman and Charles Edward Bowman both of Vincennes, IN and Thomas and Paul
Francis who died in infancy.
Burr is survived by his beloved Pollie, two daughters Kimberly Sue Botts and her husband Mark of Syracuse, Indiana, Janet Louise Lyon and her husband Joe of St. Charles, Illinois, and one son, John Douglas Bowman
and his wife Gail (Williams) Bowman of Lawrenceville, Illinois. Two brothers Robert Eugene Bowman and his wife Shirley of Dayton, IN, and James Kenneth Bowman and his wife Anne of Vincennes, IN, fourteen
grandchildren and twelve great-grandchildren.
The family of Burr Bowman wishes to extend our sincere thanks to American In-Home Care, Kim Hoff, Rajday Williams, Nixon Abraham, and Rosalyn Mompremier. Quality people and quality care. We also want to
acknowledge Hospice of Health First, Dr. Gary Dana, Nurse Maria Schmuhl, Social Worker Stephanie Canjar, along with CNA Roger Guthri , and Chaplin Woody Morrison. These people were top notch professionals
that kept us going day to day with compassion and encouragement.
A Mass of Christian Burial will take place at 1:30 p.m. on Saturday, September 26th at St. Lawrence Catholic Church with burial to follow immediately in Lawrenceville City Cemetery. A drive-through visitation will be held earlier for those with health concerns due to the recent outbreak of COVID-19 at the Bowman farm just outside of Lawrenceville on US 50 on Saturday, September 26th from 11:00 a.m. until 12:00 p.m. Cunningham-Young Funeral Home is assisting with local arrangements.
Online condolences can be sent to the family at www.cunninghamfuneralhomes.com.