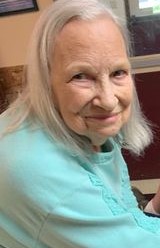 Bernice Gossett, age 86 of Bridgeport and formally of Terre Haute, IN, passed away Sunday, September 13, 2020 at Aperion Care of Bridgeport. She was born on September 8, 1934, in Kahoka, AR to Leslie V. and Vera P. (Barns) Walls.
On January 6, 1951, Bernice married Everett N. Gossett in Paris, IL. He preceded her in death in September of 2011.
She was a member of the Bridgeport Immaculate Conception Catholic Church.
Bernice and Everett were foster parents for 21 years to 137 children. She was a homemaker and worked in the office for the Lawrence County Senior Citizens Center-Meals on Wheels.
Surviving family includes: one son- Richard E. Gossett: one foster son- Steve N. Gossett: grandchildren- Bennett (Carley) Vinson, Kimberly A. Gossett, and Alicia K. (Charles): eleven great-grandchildren: ten great-great-grandchildren: several nieces and nephews.
She was preceded in death by: her parents- Leslie V. and Vera P. Walls: her husband-Everett Gossett: one foster son- David N. Payne: one sister- Betty A. (Walls) Hoopingarner: and one brother- John A. Walls
A funeral service will be held for Bernice Gossett at 2:00 p.m. on Thursday, September 17, 2020 at the Cunningham Funeral Home in Bridgeport. A walk-through visitation will be held at the funeral home from 1:00 p.m. until service time at 2:00 p.m. Burial will take place in Cresthaven Memorial Park Cemetery.
Online memorials can be sent to the family at www.cunninghamfuneralhomes.com.
PLEASE NOTE THAT COVID-19 GUIDELINES WILL BE OBSERVED. SOCIAL DISTANCING MEASURES WILL BE IN FORCE, AND FACE COVERINGS ARE ENCOURAGED WHEN SOCIAL DISTANCING CANNOT BE MAINTAINED