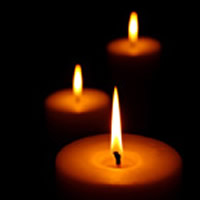 Flossie Lee Jordan Price passed away in her home, surrounded by family, on August 27, 2020 after a brief battle with cancer.
Flossie was born October 28, 1937 to Edward Jordan and Marjory Davidson Jordan of Wheatland, Indiana. She married Charles Wesley Price in 1959 and together they raised their family in Lawrence County Illinois. Preceding her in death were son James Bryan and husband Wesley. Survivors include Flossie's brother and sister, Charles Jordan (Karen) and Mollie Donaldson; sister-in-law Pat Nash; children Carl (Julie), Raymond (Gail), Maria (Grace), and Jordi (Tracey), and 'adopted' children Mark and Mike Dunham; ten grand and step-grandchildren, 3 great grandchildren, and beloved nieces and nephews.
Flossie graduated Wheatland High School in 1955; obtained an Associate's degree from Vincennes University and completed training as a Registered Nurse from Good Samaritan Hospital in 1958; and earned a Bachelor's of Social Work from St. Mary of the Woods College in 1987. She worked for the Lawrence County Department of Public Health, Lawrence County Memorial Hospital and Richland Memorial Hospital.
As an expression of her Christian faith, Flossie was compelled to be of service to others. She delivered Meals on Wheels and organized fundraisers for the Bridgeport Senior Center; served as a mentor to youth in confirmation classes at Bridgeport First United Methodist Church; helped set up for the annual Huge Garage Sale to support Fishes & Loaves; was a 4-H adult leader, volunteered with Random Acts of Genealogy Kindness, and joined in countless other projects around the county. She also volunteered to do the little things behind the scenes that make our community a better place, such as changing the church sign weekly, or watering a tree sapling at Lanterman Park.
Flossie was a 50-year member of the Order of the Eastern Star, a member of the Daughters of the American Revolution, and an active member of Bridgeport First United Methodist Church. She was highly involved in the Lawrence County Historical Society, dedicating hours of research to documenting the lives of Civil War soldiers from Lawrence County, as well as volunteering weekly at the library and serving as a docent at the museum. She was recognized as a Best of Illinois History 2020 award by the Illinois State Historical Society for her contributions to the publication Growing Aware: Farming and Farm Life in Lawrence County. She was instrumental in organizing the Jordan Society and its annual gatherings.
Traveling around the United States became a special joy of Flossie's, allowing her to marvel at natural wonders and historical landmarks around the country.
A private funeral will be held at Cunningham Funeral Home in Bridgeport, IL and Flossie will be buried at Mt. Zion Cemetery in the Christy Township of Lawrence County. Friends are invited to consider honoring Flossie with an action that celebrates community and God's creation: befriend a stranger, share a baked good, enjoy the moon on a crisp morning, read a poem, support a local business, rake leaves, take a homemade dish to a potluck, vote, play cards with friends, pray early and often. In lieu of flowers, memorial contributions may be made in the form of time or treasure to Fishes and Loaves, PO Box 134, Lawrenceville IL 62439.
PLEASE NOTE THAT COVID-19 GUIDELINES WILL BE OBSERVED. SOCIAL DISTANCING MEASURES WILL BE IN FORCE, AND THE FAMILY ASKES THAT FACE COVERINGS BE USED WHEN SOCIAL DISTANCING CANNOT BE MAINTAINED.