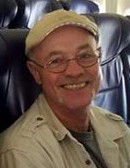 Terry A. Childers, age 64, of Sumner, Illinois passed away on Monday, July 06, 2020 at the Lawrence County Memorial Hospital in Lawrenceville, Illinois. He was born on September 17, 1955 in Shelbyville, Indiana, the son of Walter Leroy Childers and Shirley Jean (Buchanan) Swanson. He married Julie Grove on May 20, 1979 and she survives.
Terry worked at the Robinson Correctional Center and then the Lawrence Correctional Center, totaling in 24 years. He enjoyed traveling. He attended the Bethany Christian Church. Terry served his country in the United States Marines.
Preceding him in death were his parents.
Survivors include his wife, Julie; four children, Jennifer Childers of Trafalgar, Indiana, Leigh Haggard and husband, Jeffrey of Fort Branch, Indiana, Anthony Childers of Vincennes, Indiana, and Nicholas Childers and wife, Sheyla of El Paso, Texas; three siblings, Carol Nolley of Gulfport, Mississippi, Kevin Childers of Miles City, Montana, and Dorothy Childers of San Jose, California; four grandchildren; and five great-grandchildren.
A service of remembrance will be conducted on Friday, July 10, 2020 at 4:00 PM at the Emmons-Macey & Steffey Funeral Home in Lawrenceville, Illinois, which may be found with the following link: https://www.facebook.com/Emmons-Macey-Steffey-Funeral-Home-Burial-Cremation-Services-241234759332208/. Visitation will be on Friday from 2:00 PM until 4:00 PM at the funeral home. Memorial donations may be made to the Wounded Warrior Project.
Please visit www.emmonsmaceysteffey.com to view the tribute and to send condolences.