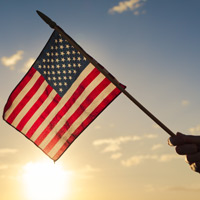 Jack K. Dunlap, age 88 of Bridgeport, passed away Monday, July 6, 2020 at Good Samaritan Hospital in Vincennes, IN. He was born at his family's home in Bridgeport on December 2, 1931 to Wilber and Lizzie (Elder) Dunlap.
Jack married Betty Ruth Wagoner in Henderson, KY on December 7, 1992, and she survives.
After graduating high school, Jack went int to the Army and served as part of the Army 82nd Airborne. He worked for many years at Union Carbide in Robinson and was a member of the Lawrenceville Elks.
Surviving family includes: his wife- Betty R. Dunlap of Bridgeport: two children- Susan Thomas and husband William of St. Louis, MO and David Dunlap of Bridgeport: three step-children- Dorinda Wimberly and husband Mike of Vincennes, IN, Kristina Siegle and husband Bill of St. Francisville, and Kimberly Smith of Westfield, IN: two grandchildren- Alex Thomas and his wife Meg and Callie Thomas all of St. Louis: two great-grandchildren- Lillian and William Thomas: nine step-grandchildren: and six step-great-grandchildren.
He was preceded in death by his parents, Wilber and Lizzie Dunlap, and one daughter, Sandra Kay Dunlap.
A memorial service for Jack K. Dunlap will be held at 2:00 p.m. on Friday, July 10, 2020 at the Cunningham Funeral Home. A visitation will be held 1:00 p.m. until service time at 2:00 p.m. Burial will take place in White House Cemetery.
PLEASE NOTE THAT COVID-19 GUIDELINES WILL BE OBSERVED. SOCIAL DISTANCING MEASURES WILL BE IN FORCE, AND FACE COVERINGS ARE ENCOURAGED WHEN SOCIAL DISTANCING CANNOT BE MAINTAINED.
Memorial contributions can be made to the family directly or through the funeral home. Online condolences can be sent to the family at www.cunninghamfuneralhomes.com