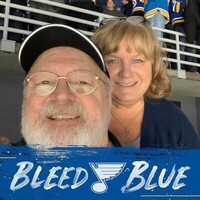 Linda Kay Hahn, age 59 of rural Sumner, passed away Tuesday, April 28, 2020 at Evelyn's House Hospice in St. Louis, MO. She was born March 11, 1961 in St. Louis, MO to Micheal J. Lefler and his wife Frances Jane (Monroe) Lefler.
On December 17, 1982, Linda married Wesley James Hahn, and he survives.
Linda had an amazing soul. Her smile and warmth will be missed by many. She was a long-time member of the Shiloh Baptist Church. As a young woman, she was baptized in the Maplewood Baptist Church in St. Louis. She joyfully served others as a pastor's wife both at Shiloh and previous churches for many years. Linda is a true Proverbs 31 woman.
She cherished and truly enjoyed being a Christian wife and mother, and nurturing her four children – all who adore her. She also especially loved pampering her grandchildren. Solomon, Salem and Eden love their Nana. Linda enjoyed crocheting, doing arts and crafts curiosities with her husband, vacationing (especially cruises), music, singing, and musical theater. As a true St. Louis native, she was a St. Louis Cardinals and an avid St. Louis Blues fan.
For 12 years, Linda worked at the Lawrence County Memorial Hospital. She served as the Director of Patient Financial Services for the past 3 years.
Just weeks before her death, Linda was diagnosed with a very rare and obviously aggressive endometrial sarcoma. She faced this devastating news with the greatest of faith, humor, dignity, grace and purpose. She was not afraid of her future because she knew Who held it. Linda had the peace which surpasses all understanding, and we rejoice with her even now as she has won the victory and is in the presence of our Almighty Lord. To God be the glory.
Surviving family includes: her husband- Wesley Hahn of rural Sumner: her parents- Micheal and Frances (Jane) Lefler: four children- Casey Elizabeth Elliott and husband Philip of Columbia, MO, Andrew James Hahn and wife Kirstin of Westchester, IL, Lucas Benjamin Hahn and wife Samantha of Louisville, KY, and Grace Anne Hahn at home: three grandchildren- Solomon Wesley Elliott, Salem Reese Elliott, and Eden Elizabeth Elliott: two sisters- Donna Dobbins and husband Kevin of Hillsboro, MO and Karen Martin and husband Danny of Strafford, MO: and several nieces and nephews on both sides of her family.
She was preceded in death by her in-laws, Kenneth J. and Darlene M. Hahn, and her maternal and paternal grandparents.
On Monday, May 4, 2020 there will be a drive-up "open air" worship service in honor and memory of Linda Kay Hahn beginning with viewing at 10:15 a.m. and worship at 11 a.m. at Shiloh Baptist Church. Burial will take place in Bridgeport City Cemetery/Shiloh Cemetery. Cunningham Funeral Home is assisting the family with arrangements.
Memorial contributions can be made to the Baptist Children's Home and Family Services at 949 County Rd 1300 N, Carmi, IL 62821 or the Lawrence County Cancer Resource Center & Wig Shoppe at 1002 Country Club Road, Lawrenceville, IL 62439. Contributions can be made directly or through the funeral home. Online condolences can be sent to the family at www.cunninghamfuneralhomes.com.