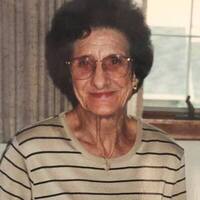 Avanel Schofield, age 97 of Henderson, KY and formerly of Bridgeport, passed away Wednesday, April 29, 2020 at Redbanks Skilled Nursing Center of Henderson. She was born in Salt Creek, WY on May 4, 1922 to Harry "Henry" Hamilton and his wife Mary Best Hamilton.
On November 29, 1941, Avanel married Richard "Dick" Schofield. He preceded her in death on March 15, 2014.
Avanel was a long-time member of the United Methodist Church of Bridgeport and was very active within the church as long as her health allowed. She was a homemaker to her family and had also worked at Johnson's Hardware in Bridgeport. She enjoyed crocheting and knitting. Avanel and Dick enjoyed spending time at Red Hill State Park as well.
Surviving family includes: two sons- Richard D. Schofield, Jr. and his wife Cheryl of Henderson, KY and Dan Raymond Schofield of Peoria, IL: four grandchildren- Trudy Cannon and husband Cliff, Teresa Nunn and husband Bill, Sean Schofield, and Andrea Schofield: and four great-grandchildren- Lauren Nunn, Chelsea Hixembaugh and husband Austin, Danielle Allen and husband Cameron, and Alex Cannon.
She was preceded in death by her parents and her husband.
A committal graveside service will be held at 2:00 p.m. at the Bridgeport City Cemetery on Saturday, May 2, 2020. Cunningham Funeral Home is assisting the family with arrangements.
Memorial contributions can be made to the United Methodist Church of Bridgeport directly or through the funeral home. Online condolences can be sent to the family at www.cunninghamfuneralhomes.com.