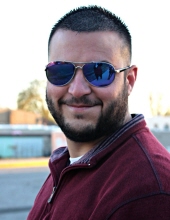 Tyler Dalston Zellers, 31, of Lawrenceville, IL, died January 9, 2020, in Lawrenceville. Another veteran has been lost to us. He didn't die in the line of duty, but he is still a casualty of war.
Tyler was born December 20, 1988, in Robinson, IL, the son of Brad & Janice Zellers, both of whom survive. He married Erica Bilohlavek on October 11, 2014, and she survives. He is also survived by his paternal grandparents, Dale & Martha Zellers; by his sister & brother-in-law, Christina & Michael Arvin; by his nieces and his nephew, Brittany Arvin, Tiffany Arvin, Brian Arvin, Cassy Arvin, and Gracelyn Arvin; by his fathers-in-law & mothers-in-law, Greg & Melissa Bilohlavek and Shannon & Chris Roach; by his brothers-in-law & sisters-in-law, Tiffany & Travis Ditch, Justin Bilohlavek & Kailey McCormack, Brandon & Kelsey Bilohlavek, Cassy Lindsay, Caytlin Bilohlavek, and Taylor McCleave; as well as numerous extended family members and friends.
He was preceded in death by his maternal grandparents, Jerry & Delores Hand.
Tyler grew up in the Hutsonville area and was a 2007 graduate of Hutsonville High School. He went on to proudly serve his country as a combat medic in the U.S. Army during Operation New Dawn. Back home, he found work as a Manufacturing Team Leader for Toyota Boshoku Illinois, and was recently working towards earning a nursing degree from Lincoln Trail College.
He was, by all accounts, a sports fanatic. He might not have been able to remember what he had for lunch, but he could pull a random baseball statistic out of nowhere! His ball club of choice was the St. Louis Cardinals, (surprising no one), and he had a goal to watch a game in every MLB stadium. Friends and family could attest to his competitive nature. Winning was always his goal, be that playing baseball or Saran Wrap ball, the latter of which he enjoyed playing this past Christmas. Though sports played a vital role in his life, nothing mattered more to Tyler than his family. Some of the most meaningful times of his life were spent alongside those he loved, including his dogs. If he could have provided a home to every stray dog around, he would have.
Though he was known to be frank, he was also very personable. There wasn't a person he was incapable of making conversation with, no matter the situation. His family hopes that when you think of Tyler, that you would remember to take the time to be kind and reach out a hand to those who may not open up. One positive action can breed so many others, and we have the opportunity to let this be his legacy.
Oh, and one more thing: Go Cards!
A time of visitation will be held from 4:00-7:00 p.m. on Wednesday, January 15th at the Goodwine Funeral Home in Robinson. Funeral services will immediately follow and will be held at 7:00 p.m. on Wednesday at the funeral home with Pastor David Vaughn & Ronnie Crawford officiating. Friends and family who are attending are invited to wear St. Louis Cardinals memorabilia in memory of Tyler. Memorial contributions may be made to "Mission 22", offering treatment for Post-Traumatic Stress and Traumatic Brain Injury, substance abuse and all of the issues veterans are facing today. Envelopes will be available at the funeral home.