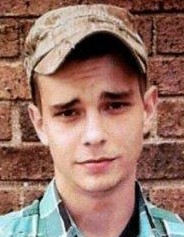 Aaron Von Ericksen, age 27, of Flat Rock, Illinois passed away on Wednesday, January 01, 2020. He was born on September 20, 1992 in Robinson, Illinois, the son of Aaron Von 'Toby' Ericksen and Gloria (Lawrence) Ericksen.
Aaron worked for Weston's Lawn Equipment, Atkins Sanitation, and Greg Ericksen's Tree Service. He enjoyed hunting and fishing.
Preceding him in death was his mother, Gloria Ericksen; paternal grandparents, Shirley and Charlie Vogel; and maternal grandparents, Walter and Wanda Lawrence.
Survivors include his father, Toby of Flat Rock, Illinois; one son, Kash Ericksen of Lawrenceville, Illinois; two sisters, Katy Dining and husband, Dalton of Lawrenceville, Illinois and Laura Murphy and husband, Ronnie of Vincennes, Indiana; one niece, Whitney Kasinger; one nephew, Levi Croslow; as well as several aunts and uncles.
A remembrance service will be conducted on Thursday, January 09, 2020 at 1:00 PM at the Emmons-Macey & Steffey Funeral Home in Lawrenceville, Illinois. Visitation will be from 11:00 AM until 1:00 PM at the funeral home. Burial will be in the Seceder Cemetery.
Please visit www.emmonsmaceysteffey.com to view the tribute and to send condolences.