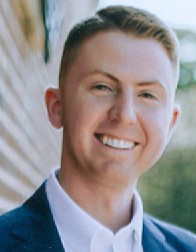 Eli Robert Latch, age 28, of Carmel, Indiana (formerly of Sumner, Illinois) passed away Friday, December 27, 2019. He was born on November 30, 1991 in Vincennes, Indiana, the son of Joseph (Joe) and Melinda (Mindy) (Mullen) Latch.
Eli worked for Corteva Agriscience in Zionsville, Indiana as a Financial Analyst. He was a member of First United Methodist Church in Bridgeport, Illinois. He earned his Bachelor of Science Degree in Finance in Agribusiness at the University of Illinois. He enjoyed all sports, especially Fighting Illini basketball, and the St. Louis Cardinals, going to the gym and spending time with his family and friends. He loved traveling, cooking and grocery shopping with his fiancé Lettie.
Preceding him in death were his maternal grandparents, Thomas and Dona Mullen.
Survivors include his parents, Joe and Mindy; sister, Claire Latch of Indianapolis, Indiana; fiancé, Lettie Williams of Carmel, Indiana; paternal grandparents, Joseph and Karen Latch of Sumner, Illinois; aunts and uncles, Mark and Mary Mullen of Lawrenceville, Illinois, Leslie and Joe Strange of Stephenville, Texas, Loretta and Dave Emmons of Vincennes, Indiana, and Lynne and Paul Carlson of Springfield, Illinois; several cousins; and furry friends, Cora and Nala.
Funeral services will be conducted on Thursday January 2, 2020 at 1:30 p.m. at the First United Methodist Church, located at 1015 12th Street in Lawrenceville, Illinois. Visitation will be on Thursday from 10:00 a.m. until the service hour of 1:30 p.m. at the church. A private burial will be conducted. Memorial donations may be made to the Lawrence County Cancer Resource Center & Wig Shoppe, the American Cancer Society, or the Alzheimer's Association.
Emmons-Macey & Steffey Funeral Home in Lawrenceville, Illinois is in charge of the arrangements.
Please visit www.emmonsmaceysteffey.com to view the tribute and to send condolences.