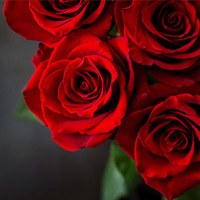 Mary Jean Chapman of Bridgeport, Illinois passed away on November 1, 2019. She was 93 and had lived at Gulf Coast Village in Cape Coral, Florida for several years. Born to Oliver Wendell Recker and Anna Deganhart-Recker on June 16, 1926, Mary Jean grew up in Bridgeport, Illinois along with her sister, Barbara. Mary Jean graduated from Bridgeport High School in 1944. She worked as a secretary at the Texaco Refinery in Lawrenceville, IL after graduation and then worked for TWA for about a year. Through her dear friend, Dorthy Chapman, Mary met Glenn "Junior" Chapman (Dorthy's brother). They started dating and got married in Evansville, Indiana in 1949.
Mary Jean developed several hobbies over the years. She took painting and drawing classes and was interested in many different crafts. Mary was a voracious reader and loved to travel. She was very open-minded and interested in different cultures and religions. She loved animals and had many pets—especially cats. She had an infectious laugh, a positive outlook on life and great sense of humor. Gregarious and funny, Mary Jean was very easy to love and made friends easily. Mary Jean Chapman was a fun and loving mother—she adored being a grandmother. She is survived by her four daughters and sons-in-law: Judy Hrvatin-Moit (Nashville, TN), Janette and Michael Healy (Bokeelia, FL), Mary L. "Jesse" and John Bruschini (Kingston, NY) and Amy and Steve Potts (Bridgeport, IL). She loved her four grandchildren—Casey and Drew Hrvatin, Blake and Hailey Potts—and her precious great-grandaughter, Adalyn Grace Potts. Mary Jean's nieces, nephews and cousins join her children and grandchildren in mourning her passing and in celebrating her beautiful life.
A graveside service to inter her ashes will be held at 1:00 p.m. on Saturday, November 16, 2019 at Crest Haven Memorial Park Cemetery in Claremont, Illinois. Cunningham Funeral Home is handling local arrangements.
In lieu of flowers, the family asks that donations be made to the Lawrence County Humane Society directly or sent to Cunningham Funeral Home. The funeral home is collecting donations on the Humane Society's behalf.