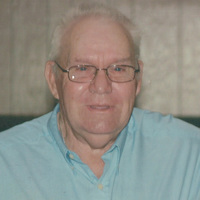 Cledus A. Laslie Sr, 83 of Bridgeport passed away on Thursday, October 31, 2019 at his home with his loving family by his side.
He was born on June 20, 1936 to Alice Grace "Eskridge" Laslie and John Laslie in Bicknell, Indiana .
Cledus married the love of his life Wanda Frances ( Armstong) Laslie on August 2, 1974 in Shawneetown, Illinois and she preceded him in death on November 17, 2018.
Cledus served in the United States Army.
He worked for the City of Bridgeport as the Superintendent for many years.
Cledus loved his family and spending time with them was the joy of his life. He loved caring for his best friend and little dog Max.
He is survived by his loving children Pamela Howder of Bridgeport, Illinois, Teresa Atchley of Oden, Indiana, John Armstong Sr. of Flora, Illinois, Grace Wirth of Lawrenceville, Illinois, Rose Maxfield of Fort Lawn, South Carolina, Phyllis Morgan of Billett, Illinois, Donna Root of Juno Beach, Florida and Vicky Blake of Belleville, Illinois 26 grandchildren, 47 great-grandchildren, and 6 great-great-grandchildren.
He was preceded in death by his parents John and Grace Laslie, his wife Wanda (Armstrong) Laslie, his brothers John, Jeff , James and Robert Laslie, his sisters rose, Delle Farrar, Leona Mae Laslie, Lilly Rose Farrarand Theresa Laslie and one son Cledus Andrew Laslie Jr.
Cledus's request was to be cremated. The Funeral Service will be on Tuesday, November 5, 2019 at 7:00 P.M., at Glasser Funeral Home in Bridgeport with Reverend Dave Watson officiating with full Military Rites.
Visitation will be on Tuesday, November 5, 2019 from 5:00 P.M. until the time of service.
Donations may be made to the to Good Samaritan Hospice.
On-line condolences may be sent to www.glasserfh.com.