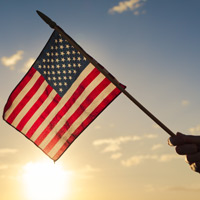 James Bradley "Jim" Eagle, age 71 of Petrolia, passed away at his home on Monday, September 9, 2019 after battling cancer. He was born May 1, 1948 in Vincennes, IN to Emmett and Bessie (Harlan) Eagle.
Jim married Carolyn Cooper in Lawrenceville on August 23, 1968, and she survives.
As a young guy, Jim served our country in Vietnam as a member of the United States Army. He had worked as a Pumper in the oilfields and was a former member of the VFW and American Legion. Jim enjoyed fishing and stock car racing.
Surviving family includes: his wife of 51 years- Carolyn Eagle of Petrolia: 2 children of Petrolia- Bradley Eagle and Julie Eagle Graham: three grandsons- Cory Eagle, Bret Eagle, and Logan Eagle: and one granddaughter- Miranda Graham.
He was preceded in death by his parents and his two siblings, John Brewer and Judy Vincent.
A graveside service will be held at 11:00 a.m. on Thursday, September 12, 2019 at Lawrenceville City Cemetery. Military honors will be given at the cemetery. Cunningham Funeral Home of Bridgeport is handling the arrangements.
Memorial contributions can be made to Disabled American Veterans directly or through the funeral home. Online condolences may be sent to the family at www.cunninghamfuneralhomes.com.