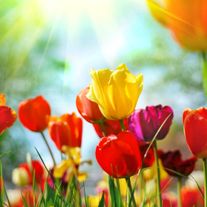 Marva Lou (Wolfe) Bellinger, age 77, of Lawrenceville, Illinois passed away on Friday, April 5, 2019 at Willow Manor in Vincennes, Indiana. She was born June 9, 1941 in Lawrenceville, Illinois, the daughter of Charles D. Wolfe and Mary Lou (Jackman) Forbes. She married Gene Bellinger on May 16, 1958 and he survives.
Marva worked at 'The Spot Café' in her younger years. She also worked in all of the family businesses: grocery store, paint store, auction company, construction company, and trash service. She, along with her husband, Gene, helped manage an arcade, 'Freeplay', in Vincennes, Indiana. They also were on the road for about three years with Mayflower, traveling cross country moving people. She attended church every Sunday in a different place all of the time, since they were on the road, but was a member of the Pleasant Ridge Christian Church. She tutored people, helping them to obtain their GED's. As her last job, she worked as the school secretary at the New Hebron Christian School in Robinson, Illinois for 17 years. She was everything from the secretary, school nurse, librarian, janitor, put together the year books, book fair coordinator, helped with yearly auctions, and everything else. She was 'Mrs. Bellinger' to hundreds of children and adults throughout the years.
Preceding her in death were her parents.
Survivors include her husband, Gene; two sons, Keith A. Bellinger of Bridgeport, Illinois and Gavin L. Bellinger and wife, Becky, of Lawrenceville, Illinois; one daughter, Charla J. Bellinger of Owensville, Indiana; one brother, Gregory C. Wolfe of Robinson, Illinois; six grandchildren, Katie Danner and husband, D.J., Ethan Bellinger and wife, Nicole, Allen Bellinger, Zane Bellinger, Josh Bellinger and wife, Jeanette, and Annie Bellinger; and three great-grandchildren, Brian Bellinger, Mary Danner, and Eden Danner.
A Celebration of Life will be conducted Thursday, April 11, 2019 at 11:00 AM at the Pleasant Ridge Christian Church. Visitation will be Wednesday from 4:00 PM until 8:00 PM at the church, as well as Thursday from 10:00 AM until 11:00 AM at the church. A private burial will be conducted in the Derr Cemetery at a later date. In lieu of flowers, memorial donations may be made to the New Hebron Christian School, with envelopes available at the church. Emmons-Macey & Steffey Funeral Home in Lawrenceville, Illinois is in charge of the arrangements.
Please visit www.emmonsmaceysteffey.com to view the tribute and to send condolences.