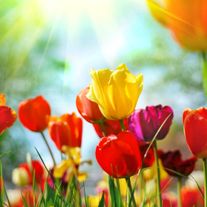 Mary Ann Stanley Richardson, age 83, of Vincennes, Indiana, passed away Friday, March 29, 2019 in Evansville, Indiana. She was born June 08,1935 in Crossville, Illinois, the daughter of Ted and Pearl (Perkins) Stanley. She married Philip Richardson on June 07, 1956 at the Crossville Methodist Church in Crossville, Illinois and he survives.
Mary was a retired school teacher. She was a graduate of Crossville High School Class of 1953.
She attended the McKendree University in Lebanon, Illinois, where she graduated in 1957 with a Bachelor of Arts Degree. In earlier years, while attending McKendree, she worked as a secretary to the dean. She was a teacher in various schools which included, McHenry High School, Viola High School, Dunlap School System, Peoria School System, Jacksonville, and Lawrenceville School System. She enjoyed reading, sewing, cooking, camping and walking. She was a member of the Pleasant Hill United Methodist Church in Washington, Indiana.
Preceding Mary in death were her parents; one daughter, Wanda Kaye Frazier; and one sister, Edna Masoner.
Survivors include her husband, Philip; one daughter, Anita Sorrell and husband, Sam of Lawrenceville, Illinois; five grandchildren, Samuel E. (Christina) Sorrell Jr., William Ray (Lacey) Sorrell, Michael Ovid (Chelsie) Sorrell, Timothy Paul (Macy) Sorrell, and Larry Jo (Reachel) Frazier. Nine great-grandchildren also survive.
Funeral services will be Saturday, April 06, 2019 at 11:00 a.m. at the Emmons-Macey & Steffey Funeral Home in Lawrenceville, Illinois. Visitation will be Saturday at 9:00 a.m. until the service hour of 11:00 a.m. Private burial will be conducted at a later date in the Stokes Chapel Cemetery in Crossville, Illinois. Memorial donations may be made to the Deaconess Hospice through the funeral home.
Please visit www.emmonsmaceysteffey.com to view the tribute and to send condolences.