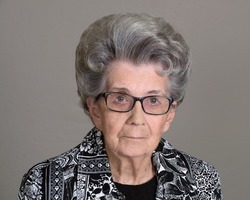 Mary "Bettye" Krych, 88, of Lawrenceville who will be remembered for her love of family and her friends, unwavering determination, and faith, passed away, on November 05, 2018 after a courageous fight with Emphysema and Lung cancer.
Bettye was born in Robinson, IL on January 16, 1930 to Mildred and Leonard Francis Ferriell. Bettye returned to Lawrenceville in 1969 with her children. She had a successful career that included working for Montgomery Wards in Vincennes, IN. She transferred with the company in 1982 to Bakersfield CA where she later managed Rolling Wheels Lawn and Garden that employed those recovering from traumatic head injury. She returned to Lawrenceville where she worked for CVS and retired at the age of 75.
Bettye has said her greatest accomplishment was raising her children and her grandchildren.
She survived by her three children David Krych of Flower Mound, TX, Andrea Connolly of Redondo Beach, CA, and Joseph Krych of Flower Mound, TX, 3 grandchildren Chandra Len Gardner, Flower Mound, TX, William Seth Krych, Flower Mound, TX, Rachel Ann Watkins, Athens, GA, 6 great grandchildren: Sydney Gardner, Flower Mound, TX, Landen Lane Gardner, Flower Mound, TX, Anna Bella Wood, Athens, GA, Eli David Krych, Conshohocken, PA, Mazie Krych, Conshohocken, PA, Finley Grace Watkins, Athens, GA. Her brother, Leonard Francis Ferriell and his wife Betty Lou of Vincennes, IN and sister Francine Belcher of Lawrenceville.
She is proceeded in death by her parents and son Joseph Patrick Krych.
A rosery vigil will be held on Monday November 19th at 5:00pm at St Lawrence church, Lawrenceville where Bettye was a devoted member for years. The funeral and celebration of life will be at 10am Tuesday November 20th at St Lawrence Church followed by burial in the Lawrenceville City Cemetery. A reception will follow at St Lawrence school, all friends are welcome.
On-Line condolences may be sent to www.glasserfh.com.
Glasser Funeral Home is helping with the local arrangements.