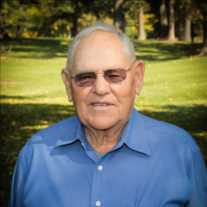 Mervin C. Rosborough, 91, of Sumner, Illinois. passed away Saturday, October 6, 2018 at Good Samaritan Hospital in Vincennes, Indiana.
He was born May 13, 1927 in Richland County, Illinois, the son of Chester and Ara (Fyffe) Rosborough. He married Mildred "Midge" Milam on December 2, 1950 and she preceded him in death June 28, 2015.
Mervin was a lifelong farmer. He worked for the State Highway Department. He also worked in the oil fields on a drilling rig. He was a member of the Prairie Chapel United Methodist Church, and recently attended the Sumner United Methodist Church. He served in the United States Navy during World War II. He was a member of the VFW and American Legion in Lawrenceville, Illinois. He was a member of the Lawrence County Farm Bureau. He enjoyed farming and was a loving father and grandfather. He was a generous person and was loved by all.
He is survived by three sons, Terry Rosborough and his wife Rhonda of Sycamore, Illinois, Tim Rosborough and his fiancé Misti Ray of Midland, Texas, and Jim Rosborough and his wife Debra of Sumner, Illinois; four grandchildren, Brandy Edmonds, Shay Remus, Carisa Rosborough, Carlin Rosborough; and five great-grandchildren.
He is preceded in death by his parents; his wife, Midge; two brothers, Robert and Wilvin Rosborough; a sister, Roberta Rodrick; and a grandson, Cody.
Funeral Services will be Friday, October 12, 2018 at 10:30am at the Sivert-Macey & Steffey Funeral Home in Sumner, Illinois. Visitation will be Thursday, October 11, 2018 from 5:00pm until 7:00pm at the funeral home. Burial will be in the Chauncey Cemetery. Military Rites will be conducted by the Lawrenceville VFW.
Memorial donations may be given to the Sumner United Methodist Church or the Lawrenceville VFW.
Please visit www.emmonsmaceysteffey.com to view the tribute and to send condolences.