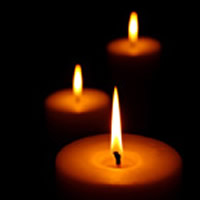 Johnnie E. Cogswell, Sr., age 75 of Bridgeport, passed away Saturday, October 6, 2018 in Vincennes, IN at the Good Samaritan Hospital. He was born April 19, 1943 in Olney to John T. Cogswell and his wife Jane (Perry).
As a young man, Johnnie served in the United States Air Force. He was affectionately known as "Hot Fingers" to those that knew him through his love for music. He thoroughly enjoyed playing guitar and being in bands. Johnnie also liked to hunt and fish, and he loved his family. He formerly attended Hi-Way Church of God when he was able, had worked as a supervisor for Days Inn while living in Florida, worked for the Housing Authority in Olney, and had also worked as the dog catcher in Bridgeport.
Surviving family includes: his wife- Victoria Cogswell: seven children- Kathy Milligan and husband Bennie of Jacksonville, FL, Johnnie E. Cogswell, Jr. of Bridgeport, Jennifer Nettleton and husband Scott of Lawrenceville, Julie Wesley of Lawrenceville, Mary Davis and husband James of Lake City, FL, Doad Cogswell and wife Crystal of Olney, and Sally Gerold of Lawrenceville: one brother- Gregory Kent Cogswell of Olney: one step-brother- Gordon Clevy of Olney: 18 grandchildren: 21 great-grandchildren: 4 great-great-grandchildren.
He was preceded in death by: his parents- John T. Cogswell and Jane Clevy: his step-father- John Ike Clevy: and one brother- Charles Cogswell.
A visitation will be held at the Cunningham Funeral Home in Bridgeport from 5:00 p.m. until 7:00 p.m. on Wednesday, October 10, 2018. Cremation will follow.
Memorial contributions can be made to the family through the funeral home. Online condolences can be sent to the family at www.cunninghamfuneralhomes.com.