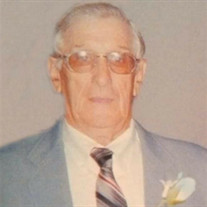 Harold Eugene 'Gene' Dunahee, 80, of Bridgeport, Illinois passed away Saturday, May 19, 2018 at his residence. He was born November 8, 1937 in Noble, Illinois, the son of Pearl and Maude (More) Dunahee. He married Juanetta A. Montgomery on December 27, 1957 and she preceded him in death on April 22, 2006.
Gene was a mechanic in his early years, working for local auto dealerships. In 1977, he began working for Marathon Oil Company as an oil field pumper and finished his career in 2016 with Rex Energy. In his early childhood, he enjoyed farming with his father and continued that tradition throughout his life with his sons and grandson, Jake. He attended the Sumner United Methodist Church. Gene and his wife, Juanetta, enjoyed many years of square dancing together. Following the death of his wife, his passion for dancing continued. On any given night, Gene could be found on the dance floor.
Preceding him in death were his parents; wife, Juanetta; and two brothers, Bill Dunahee and JR Dunahee.
Survivors include three sons, Jim Dunahee and wife, Jill, of Bridgeport, Illinois, Doug Dunahee of St. Louis, Missouri, and David Dunahee of Melbourne, Florida; one daughter, Pamela Brian and husband, Jerry, of Sumner, Illinois; nine grandchildren, Jed Brian, Jake Brian, Brandon Dunahee, Courtney Dunahee, Kaitlyn Dunahee, Emma Dunahee, Miranda Dunahee, Heather Sellers, and Michael Montgomery; and nine great-grandchildren, Bentley Brian, Kenleigh Brian, Jace Brian, Kylee Dunahee, Kolton Dunahee, Josh Sellers, Lyndsie Sellers, Zeke Montgomery, and Zoey Montgomery.
Funeral services will be Friday, May 25, 2018 at 10:00 AM CST at the Sivert-Macey & Steffey Funeral Home in Sumner, Illinois. Visitation will be Thursday from 5:00 PM until 7:00 PM CST at the funeral home. Burial will be at Cresthaven Memorial Park. In lieu of flowers, memorial donations in Gene's memory may be made to the Christy Fire Protection District.
Please visit www.emmonsmaceysteffey.com to view the tribute and to send condolences.