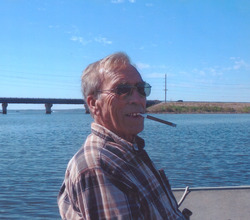 John L. Jones 74 of Bridgeport, Illinois passed away on Saturday, May 19, 2018 at his home with his loving family at his side.
John was born on March 2, 1944 to Ralph and Louise Marie (McClaskey) Jones in Lukin Township, Illinois.
He married the love of his life Karen Owens on September 25, 1965 in Bridgeport.
John worked in the oilfield as a Driller, he was a truck driver and a heavy equipment operating for Ambraw Asphalt of Lawrenceville where he retired after 42 years.
He was a proud member of the Teamsters Union Local 135 of Vincennes
John loved being outside hunting, fishing, boating and camping. He loved spending time with his family and his best friend Bow. John loved driving and racing Stock cars.
John is survived by his loving wife Karen, 2 loving daughters, Julie Brumley and husband Bill of Bridgeport, IL, Sheri Perrott of Lake Lawrence, IL.
2 Brother, Jim Jones of Bridgeport, Bill Jones and wife Jenny also of Bridgeport, 2 grandchildren John M. Perrott of Bridgeport, Jordyn Volmerding and husband Matt of Columbus, IN. and his loving dog and best friend Bow.
He is preceded in death by his parents, 3 sisters, infant twin Gladys, Maxine Campbell, and Jean Bousley, 3 brother, infant twin Robert Jones, Mack Jones, Larry Jones.
The Funeral Service will be on Thursday, May 24, 2018 at 10:30 A.M., with Pastor Eunice Glasser officiating at Glasser Funeral Home in Bridgeport, IL. Burial will be at Christy Twp. Cemetery, Sumner, IL.
The Visitation will be Wednesday, May 23, 2018 from 6:00 to 8:00 P.M. at the funeral Home.
Memorials may be made to the Lawrence County Animal Shelter. On-line condolences may be sent to www.glasserfh.com.