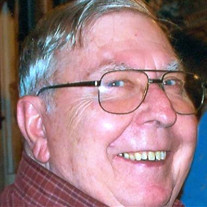 James Robert Ingram, 82, of Lawrenceville, Illinois, passed away Friday, May 11, 2018 at Good Samaritan Hospital in Vincennes, Indiana. James was born on December 3, 1935 in Evansville, Indiana, the son of George Robert and Victoria Bertha (Hass) Ingram. He married Edna Marie Hofmann on April 14, 1956 at the Darmstadt Trinity Lutheran Church in Darmstadt, Indiana and she survives.
James was a meat cutter at the Emge Packing Company in Fort Branch, Indiana. In 1977, he moved to Lawrenceville and purchased Jiffy Cleaners, that he owned and operated until it burnt in 1987. He then worked in the maintenance department at Golden Rule Insurance for ten plus years and retired in 2006. James was a member of the Our Savior Lutheran Church and enjoyed being active in the church. He was an Illinois National Guard Veteran.
Preceding him in death were his parents and one brother, Richard Ingram.
Survivors include his wife, Edna; two sons, Steve and Donna Ingram of Wadesville, Indiana and Robert and Holly Schlanker-Ingram, of Lawrenceville, Illinois; two brothers, John and Linda Ingram, of Smithville, Tennessee and Jay Ingram of West Palm Beach, Florida; two sisters, Beverly Leinenbach of Newburgh, Indiana and Martha Davis of Evansville, Indiana; and two grandchildren, Hunter Robert Ingram and Briley Alyx Ingram of Lawrenceville, Illinois.
Funeral services will be Monday, May 14, 2018 at 12:00 PM CST at the Emmons-Macey & Steffey Funeral Home in Lawrenceville, Illinois. Visitation will be Monday from 10:00 AM until 12:00 PM CST at the funeral home. Burial will be in the Memorial Park Cemetery in Vincennes, Indiana. In lieu of flowers, memorial donations may be made to Worship Anew Lutheran Ministries Media, Inc, 5 Martin Luther Drive, Fort Wayne, Indiana 46825.
Please visit www.emmonsmaceysteffey.com to view the tribute and to send condolences.