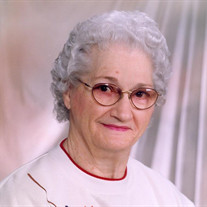 Frances Lee Grove, age 91, of Sumner, IL passed away Friday April 20, 2018 at the Lawrence County Memorial Hospital in Lawrenceville, IL.
She was born October 28, 1926 in Bridgeport, IL the daughter of Earl and Lena Catherine (Bridgett) Goodwin. On December 3, 1946 she married Gregory L. "Doc" Grove. He preceded her in death on April 17, 2007.
Frances was a homemaker. She was a member of the Pleasant Hill United Methodist Church. She enjoyed crafts and watching football and baseball. She valued her family.
Surviving are a son: Danny Grove of Vincennes, IN, two daughters: Kay Hague and her husband Jim of Lawrenceville, IL, Glenna Bennett and her husband Roger of Sumner, IL, a granddaughter: Carrie Potts and husband Steven, and great-grandson: Aiden Potts.
Along with her parents, and husband, a brother Robert Goodwin is deceased.
Graveside Services will be Tuesday at 11:00am at the Petty Cemetery. Visitation is Monday from 5:00 until 7:00pm at the Sivert-Macey & Steffey Funeral Home in Sumner, IL.
Memorial donations may be given to the Oblong Children's Home with envelopes available through the funeral home.
Send condolences to www.emmonsmaceysteffey.com