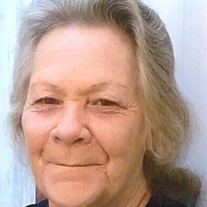 Frances D. Pruitt, 71, of Lawrenceville, Illinois passed away on Tuesday, March 27, 2018 at her residence. She was born March 28, 1946 in Danville, Illinois, the daughter of Ernest and Eva Wombles.
Frances was a homemaker. She attended Highland Church of Christ in Robinson, Illinois. Her hobbies included spending time with her family, playing Skip-Bo and Phase 10, as well as watching movies.
Preceding her in death were her parents; five brothers; eight sisters; and one daughter, Kimberly Ann Falconbury.
Survivors include one son, Ralph Falconbury of Tower Hill, Illinois; one daughter, Tina Mullins of Lawrenceville, Illinois; eight grandchildren; and four great-grandchildren.
The body will be cremated, and no formal services will be conducted. Emmons-Macey & Steffey Funeral Home in Lawrenceville, Illinois is in charge of the arrangements.
Please visit www.emmonsmaceysteffey.com to view the tribute and to send condolences.