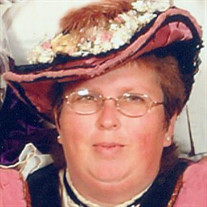 Barbara S. Reynolds, 55, of Flat Rock, Illinois passed away Tuesday, February 27, 2018 at Aperion Care in Bridgeport, Illinois. She was born October 24, 1962 in Vincennes, Indiana, the daughter of Elzie and Opal (Forman) Aldridge.
Barbara was a CNA. She was a loving mother and grandmother, and a good friend to all.
Preceding her in death were her parents and two brothers, John Henry Aldridge and Obie Aldridge.
Survivors include two daughters, Brittney Reynolds of Birds, Illinois and Allyce Reynolds of Campbellsville, Kentucky; one brother, Elzie Aldridge, Jr. of Russellville, Illinois; and two grandchildren, Nicole Reynolds and Nicholas Reynolds.
A gathering will take place on Saturday, March 31, 2018 at the Birds Free Methodist Church Fellowship Hall from 10am until 2:00pm CST. Emmons-Macey & Steffey Funeral Home in Lawrenceville, Illinois is in charge of the arrangements.
Please visit www.emmonsmaceysteffey.com to view the tribute and to send condolences.