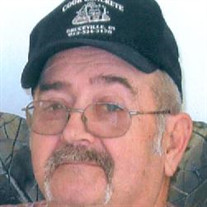 Kelly Gene Thacker, 71, of Bridgeport, Illinois passed away Thursday, March 22, 2018 at Aperion Care in Bridgeport, Illinois. He was born April 10, 1946 in Richland County, Illinois, the son of Mervin Leon and Wanda Ruth (Waggoner) Thacker.
Kelly was a truck driver and retired from Jones and Sons in Vincennes, Indiana after working there from 1986 until 2014. He was a member of the Red Hill Saddle Club and the Tri-State Saddle Club. He enjoyed being outside, riding horses, and spending time with his grandchildren.
Preceding him in death were his parents and sister, Cathy Sue Jackson.
Survivors include one son, Kevin Thacker and wife, Michelle, of Lawrenceville, Illinois; one daughter, Tami Carrie of Lawrenceville, Illinois; three brothers, Carroll Leon Thacker and wife, Pam, of Chauncey, Illinois, Michael Dean Thacker of Washington, Indiana, and Jeffery Lyn Thacker and wife, Liz, of Oblong, Illinois; two grandchildren, Bailey and Maddy; three step-grandchildren; four great-grandchildren, Cooper, Josey, Jacey, and Harlow; and nieces and nephews.
Funeral services will be Saturday, March 24, 2018 at 12:00 PM CST at the Emmons-Macey & Steffey Funeral Home in Lawrenceville, Illinois. Visitation will be Saturday from 10:00 AM until 12:00 PM CST at the funeral home. Burial will be in the Waggoner West Cemetery.
Please visit www.emmonsmaceysteffey.com to view the tribute and to send condolences.