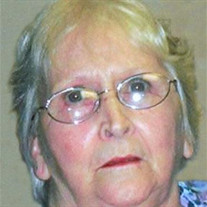 Sharon S. Collins, 75, passed away Friday March 16, 2018 at Lawrence County Memorial Hospital in Lawrenceville, IL.
She was born October 24, 1942 in Vincennes, IN the daughter of Sara (Clevy) Hussey.
Sharon worked for Speedway Superamerica Convenience Stores in Lawrenceville, Vincennes, and at Gordon Junction in Crawford County, IL for 20 plus years until her retirement. She also sold AVON all of her life, even during her stay at the United Methodist Village. She was a member of the Red Hat Society and enjoyed collecting.
She is survived by three sons: Delbert Collins of Lawrenceville, IL, Devin Collins and wife Julie of rural Lawrenceville, IL, Bruce Collins of Ft. Wayne, IN, a daughter: Tina Bledsoe and husband Robert of Lawrenceville, IL, eight grandchildren, and ten great-grandchildren.
She was preceded in death by her mother, and brothers: Larry Hussey and Jim Clevy.
The funeral will be Tuesday March 20, 2018 at 1:00pm at the Emmons-Macey & Steffey Funeral Home in Lawrenceville, IL. Visitation is also Tuesday from 12:00 to 1:00pm at the funeral home. Burial will be at the Lawrenceville, City Cemetery.
Send condolences to www.emmonsmaceysteffey.com