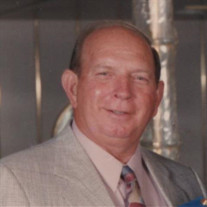 Lloyd Adam Shelton, 84, of Lawrenceville, IL passed away Monday, March 12, 2018 at Good Samaritan Hospital in Vincennes, IN.
He was born October 2, 1933 in Campbell, MO; the son of Herschel and Goldie Parilee (Medlin) Shelton. He married Catherine McDonald on April 11, 1956. She preceded him in death. He married Betty Rae Treadway on August 30, 1980, and she survives.
Lloyd was a 1953 graduate of Lawrence Township High School. He served in the United States Army during the Korean Conflict. He worked at Whirlpool in Evansville, IN for 11 years. He later worked for Texaco for 27 years as a welder. After retirement, he delivered Meals on Wheels. He was a member of the First Christian Church in Flat Rock, IL where he served as an Elder. He was a member of the Masonic Lodge where he was a 32nd Degree Mason. He umpired baseball for 22 years at the Texaco Field. He was a hard worker and a good provider for his family.
Along with his wife Betty, Lloyd is survived by sons: Steve Shelton and his wife Susan of Lawrenceville, IL, Boyd Shelton and companion Sara Lankford of Vincennes, IN, daughters: Tresa Shelton of Lawrenceville, IL, Edie Hunt and her husband Gib of Lawrenceville, IL, brothers: Ed Shelton and his wife Janet of Santa Claus, IN, Louie Shelton and his wife Brenda of Lawrenceville, IL, Terry Shelton of Lawrenceville, IL, sisters: Wilma Schroyer and her husband Lanny of Birds, IL, Sharon Weiss and her husband Mike of Sumner, IL, Linda Ridell of Hammond, IN, Debbie Blockland and her husband Danny of Hammond, IN, step-children: Donald Keller and his fiancé' Monica of Palestine, IL, Kevin Keller and his wife Gina of Bloomington, IL, Karon Keller of Apex, NC, Karla Crawley of High Point, NC, Glenda Roberts and her husband Sam of Greensboro, NC, and Ronda Caudill of Robinson, IL, six grandchildren, six great-grandchildren, ten step-grandchildren, and 15 step-great-grandchildren.
He was preceded in death by his parents, first wife Catherine, an infant brother: Herschel Shelton Jr., and four sisters: Wanda Belcher, Barbara Darnold, Maxine Shelton, and Pat Stallard.
The funeral will be Saturday, March 17, 2018 at 10:00am at the Emmons-Macey & Steffey Funeral Home. Visitation is Friday evening March 16, 2018 from 5:00pm until 7:00pm at the funeral home. Burial will be at the Pollard Cemetery.
Memorial donations may be given to the Lawrenceville Senior Citizens or to Fish and Loaves.
Send condolences to www.emmonsmaceysteffey.com