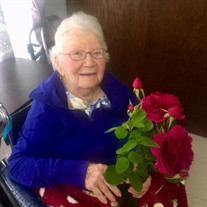 Regina Louise Fleming Fitch, age 103 years and 7 months, died Friday, Dec. 22nd, 2017 at the North Campus of the United Methodist Village, where she had resided since 2010. She was one of the first residents of the newly completed Assisted Living and was able to enjoy her new home until 2012 when she transferred to full care.
Regina was born May 6, 1914 in Bridgeport, Illinois, the first of five children to Russell Gilbert Fleming and Anna Marie McKelfresh Fleming. Her siblings were Mark McKelfresh (Wilma) Fleming, Hettie Roberta (Leo) Jennings both of Lawrenceville, Ruth Virginia (Charles) Parsons of Fairfield, Illinois and Donald DeHass (Jane) Fleming of Bedford, Texas. She treasured the many years and the memories she shared with them and their families. She felt the loss when all pre-deceased her.
Education was a priority for Regina. She graduated in 1932 from Bridgeport Township High School and always regretted not having the opportunity for further education. She took great pride in being a Bridgeport Bulldog. This posed a dilemma for her when both sons played football for Lawrenceville against their rival Bridgeport! She said she was always a winner regardless of the outcome!
On June 13, 1935, she married her life partner and best friend, Andrew Milton Fitch. They celebrated 63 years of marriage before his death, March 10, 1999.
Together they had five children: Russell William (JoAnn) Fitch of Aurora, Colorado, Ellen Ann Fitch Brown of Lawrenceville, Illinois, Karen Anita Fitch (Jack) David of Bedford, Texas, Andrew Edward (Carolyn) Fitch of Champaign, Illinois, and Linda Elizabeth Fitch (John) Ingram of Smithville, Tennessee; 12 grandchildren: Lynn (Fitch) & Todd Ganter of Colorado, Doug Brown of Lawrenceville, Illinois, Dana (Brown) & Sam Worland of Vincennes, Indiana, Bill David & Sharon of Texas, Mark David & Julie of Tennessee, Anita (David) & Tim Anderson of Texas, CJ & Paige David of Texas, Tyler Fitch & Marianne of Champaign, Illinois, Amy (Fitch) & Doug Davis of Idaho, Sam Fitch of Pamplona, Spain, Jody (Ingram) & Richard Garza of Texas, and John & Lori Ingram of Kansas; 20 great-grandchildren; and 11 great-great-grandchildren.
As previously mentioned, an education was of great importance to Andrew and Regina. Regina valued being independent and self-supporting through work. She strongly encouraged her children to go to college and was very proud when they all graduated. They were all expected to "work" while in school and help with the costs associated with higher learning. Regina and Andy were able to "launch" all five of their children from the nest from 1954-1965, a remarkable feat by anyone's standards.
After the "Fitch Kids" were launched, Andy and Regina regrouped and waited for the grandchildren. By 1970, they had 13 and today the grandchildren have the good fortune of priceless memories of life on the farm with Grandma and Grandpa.
During this time, Regina also worked as a Unit Secretary, as well as a nursing assistant and Grey Lady at Lawrence County Memorial Hospital. She was named WAKO Mother of The Year in 1974. She had previously worked as a dental assistant to Dr. Orin Montgomery and Dr. Mike Kirkwood.
Regina and Andy were members of the Birds EUB Church until its closing. She was very active in the church singing in the choir, teaching Sunday School and Bible School, and together fellowshipped with other couples in the U Win One Group. She was an avid Bible scholar and loved Bible trivia games and cross word puzzles.
Regina was actively involved in 4-H and was a leader for many years in the West Bond Club. She was a skilled seamstress, made many of her children's clothes from feed sacks and taught all three daughters to sew, cook, iron and clean. Andy kept busy farming and teaching his sons how to drive a tractor, milk a cow, butcher, and anything else where he needed help. In their "spare" time they made sorghum taffy, popcorn balls, chaperoned dances and Andy helped build the "Class of 62" homecoming float! He also had the courage to teach all five of his children to drive a car and "parallel park"!
In 1976, Regina and Andy were fortunate to purchase a used motorhome known as "The Winnie"! They traveled the country for many years visiting friends and family. In 1976, they also purchased property in Mission, Texas in an over 55 park, where they lived full-time from 1988 until Andy's death in 1999; then Regina returned to Illinois in 2010. Regina loved the Rio Grande Valley and living at Lemon Tree Estates. She learned to swim when she was in her sixties and swam daily for many years. Her last trip to Lemon Tree Estates was in 2012, but she continued to grieve for her Texas life and many friends … most of whom are gone.
The only thing Regina liked as well as Texas was celebrating her birthday! Every year she would remark that "she wished Andy could have been here".
Regina was pre-deceased by her husband, Andrew; her parents; siblings and their spouses; son-in-law, Wallace "Bud" Brown; and grandchild, James Russell Ingram.
A celebration of her life will be held at a later date. In lieu of flowers, memorial donations in Regina's memory may be made to Good Samaritan Hospice, E & D Foundation for Lawrence County Memorial Hospital, the United Methodist Village-North Campus, or the donor's choice. Emmons-Macey & Steffey Funeral Home in Lawrenceville, Illinois is assisting the family with the arrangements.