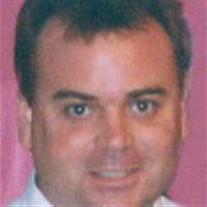 Joel Thomas Kirkwood, 48 of Evansville, Indiana passed away Monday, December 11, 2017 at St. Vincent's Hospital in Evansville, Indiana. He was born August 17, 1969 in Lawrenceville, Illinois, the son of Dr. Michael T. and Judith Ann (Rooney) Kirkwood.
Joel worked in banking. He attended Vincennes University and graduated from Indiana University in Bloomington, Indiana, the Kelley School of Business. He was a devout Christian; as well as an accomplished tennis player and a member of the V.U. Tennis Team.
Preceding him in death were his mother, Judith; and two brothers, Scott Kirkwood and Chris Kirkwood.
Survivors include his father, Dr. Michael T. Kirkwood of Vincennes, Indiana and one daughter, Addison Leigh Kirkwood of Newburgh, Indiana.
Graveside services will be Wednesday, December 27, 2017 at 12:00 PM CST at the Lawrenceville City Cemetery. There will be no visitation. In lieu of flowers, memorial donations in Joel's memory may be made to the donor's choice. Emmons-Macey & Steffey Funeral Home in Lawrenceville, Illinois is assisting the family with the arrangements