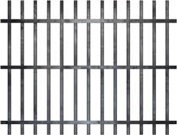 -Two Bridgeport residents were arrested yesterday. Bridgeport Police took 35 year-old Shawn Dunn and 34 year-old Jennifer Hershey into custody. Dunn and Hershey were taken to the Lawrence County Jail.
-42 year old Coy Bateman was arrested in Knox County by state police last evening and charged with check deception.
 -Vincennes Police arrested 39-year-old Robert Cullivan for Auto Theft and Operating a Motor Vehicle with a VIN number belonging to another vehicle.  He was jailed just before 2 yesterday in the Knox County Jail.
 -Nishaul Thompson was jailed in Knox County yesterday for Invasion of Privacy. The 44 year old was arrested by the Knox County Sherrif's Department.
 -40-year-old Eric Hudson was arrested the Sheriff's Department in Knox County for Possession of Paraphernalia.