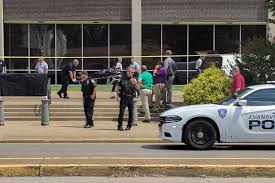 (photo from Evansville Courier/Press)
A man who was shot and killed by police at the federal courthouse in Evansville Tuesday morning was at the courthouse Monday, and had to be escorted out. WFIE reported Ricky Ard, 55, of Evansville, was shot and killed by officers after they tried to use a stun gun and it didn't work.
Ard was using a bat to break out glass doors and windows at the courthouse.
"To be clear- Multiple de-escalation techniques were used prior to the officer involved shooting. Prevented entry, verbal commands, and Taser," Tweeted Evansville PD.
An officer was hurt by flying glass and Ard was shot when he acted aggressively with the bat, said police. An autopsy is scheduled for today.
(story from Network Indiana)