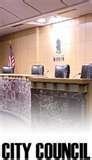 The St. Francisville City Council met yesterday. The city council heard from Police Chief Bill Darnell on the recent tampering of water meters by some who have had their water shut off. Darnell assured the city council that water meter tampering would not be tolerated.  
The council also approved the use of the Catholic Church grounds for the upcoming Chestnut Festival October 5th and 6th.

 They also approved the use of the school gym for the upcoming Alumni Gathering.