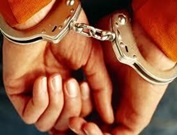 -A man was booked into the Knox County Jail for domestic battery and other charges just after midnight last night.  23-year-old Jacob Patton is charged with battery on a person under 14, battery in the presence of a child under 16 and domestic battery and also strangulation.  The arrest was made by Vincennes Police.
-The Knox County Sheriff's office served a warrant on 20-year-old Tanner Houchin Wednesday for failure to appear.
-Officers from Vincennes charged 37-year-old Falton Tate with residential entry and public intoxicated.  He was jailed at about 2:30-pm yesterday.
-A woman was picked up on a warrant out of Knox Superior Court 2 for theft Wednesday.  Arrest reports state that 25-year-old Jacquelyn McPherson was jailed at 10:18-am yesterday.
-At 9:40am-Robert Bagley, 28-years-old, was booked into the Knox County Jail on a Superior Court 2 warrant for burglary.
-Vincennes Police arrested a wanted man in the 1400 block of Harrison Street at just before 11 last night. 27-year-old Ramon "RJ" Melton was wanted for contempt of court.
-Joshua Fornay, 31 was arrested by the sheriff's department on a contempt of court warrant.
-At 6-am Wednesday. 23-year-old Sydney Pitts was incarcerated in the Knox County Jail for battery.
See mugshots here